Alan M. Sugar
From CPCWiki - THE Amstrad CPC encyclopedia!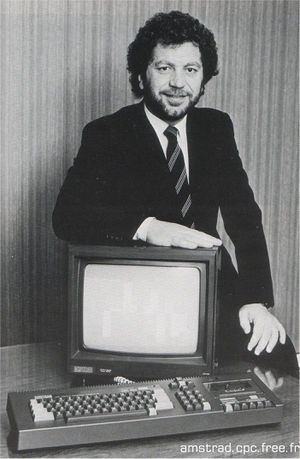 Alan Michael Sugar, Founder of Amstrad (Alan M. Sugar Trading)
He sold it in 2007.
Also came recently to attention as the host of a british TV show : the Apprentice.
Oh, and he's a Lord, Knighted in 2000. (Michael Knight or K2000 are somewhat suitable nicknames))
10 Fun Facts About Sir Alan Sugar
Sir Alan founded Amstrad (Alan Michael Sugar TRADing) at the age of 21.
Two years later he was manufacturing low-priced hi-fi turntable covers and in 1980, Amstrad was floated on the London Stock Exchange.
In 1986 he launched a word processor with an affordable price tag which took Europe by storm.
Keeping up with the times, he now produces set top boxes and personal video recorders.
Sir Alan became Chairman of Tottenham Hotspur FC in 1991.
In 2000, he stood down as Tottenham Hotspur chairman after agreeing to sell part of his stake in the club to international sports entertainment business ENIC.
In July 2007, Sugar sold his Amstrad empire to Sky but remains Chairman.
Amstrad's sister companies include: Amsair, which offers business and executive jets to a number of high profile clients around the world and Amsprop, an investment firm.
In 2000, Sir Alan Sugar was knighted for his services to business. He holds two honorary Doctorates of Science degrees, awarded by City University and Brunel University respectively.
He is a philanthropist for a number of charities including Great Ormond Street Hospital, the Hackney Empire and Jewish Care. He has now been recruited to the government's Treasury Industry Team where he is an advisor to Gordon Brown on youth enterprise.

Sugar's catchphrase in his show :
"You're Fired!" (if Looser)
"You're Hired!" (if winner)
There's even a kool T-shirt...
Videos
The creation of Amstrad's computers and Alan Sugar's life (documentary)
1/6
2/6
3/6 (The starting of personal home computers)
4/6
5/6
6/6
Historical fact : Amstrad Buys Sinclair in 1986.