Navy Seals (cartridge)
From CPCWiki - THE Amstrad CPC encyclopedia!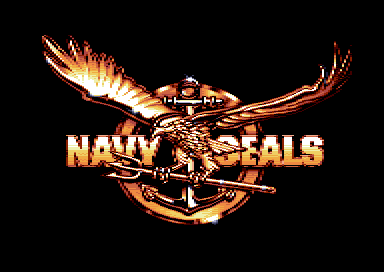 A game From OCEAN using well the Plus features.
Often considered amongst the best the GX4000/Plus can offer, it's a platform shooter game with an infiltration theme.
Cover
Covers from CPCmania
Cartridge
Manual
You can download in PDF from CPCmania ( See the links ).
Game
You can download in CPR for use in emulators and BIN from CPCmania ( See the links ).
This game is particulary difficult and well done, looking quite like the 16-bit computers versions.
video

Longplays courtesy from Xyphoes.
Implementation details and use of Plus hardware
Mode 0 is used for display
Plus palette is used
Plus raster interrupt is used
Plus sprites are used for man and enemies
Plus split screen is used (for panel at the bottom)
Plus soft hardware scroll is used. (The left column is also masked by the border)
Plus DMA is used (channel 0 is used for sound effects. Each sound effect is defined only by a list of DMA commands. e.g. no CPU driver is used to play them).
bullets are done with soft sprites
CRTC Register values are: R0 = 63, R1 = 40, R2 = 46, R3 = 14, R4 = 38, R5 = 0, R6 = 29, R7 = 32
R0,R1,R2,R4,R5 are the normal values used by the system. R3 means a horizontal sync width of 14 chars, but a vertical sync width of 16 lines. R6 is 4 more lines than normal (probably for the panel at the bottom), R7 is 2 chars more than normal shifting the screen up by 2 char lines, to centralise the display and panel. The effect of the left column being masked is not compensated for.
Links
http://www.cpcmania.com/ ( on the games section : GX4000/CPC+ GAMES )