Pang (cartridge)
From CPCWiki - THE Amstrad CPC encyclopedia!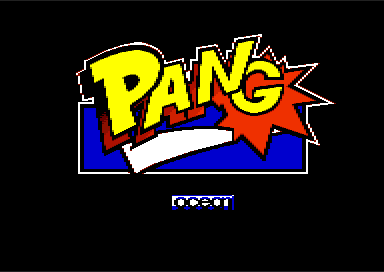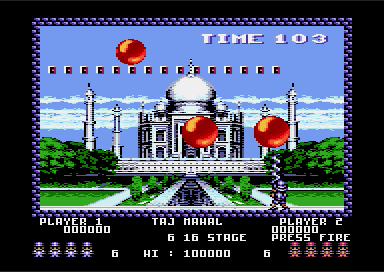 A classic CAPCOM arcade game port from OCEAN.
Known as perhaps the best 8 bit port for this game (so say the Amstradists) and of course amongst the best the GX4000/PLUS have to offer..
It is quite faithful to the Arcade.
Cover
Covers from CPCmania
Cartridge
Manual
You can download in PDF from CPCmania ( See the links ).
Game
You can download in CPR for use in emulators and BIN from CPCmania ( See the links ).
No CPC (old) version of this game exists, but clones do exist.
Video
Longplay by Novabug
Quick Look by Novabug
Gameplay Run-through from xyphoe.
Longplay from xyphoe too.
Implementation details and use of Plus hardware
Mode 0 is used for background and panel
Plus palette is used for the nice colours in the background
Plus sprites are used for the plane sprite (on the map), the bubbles/balls and the man
Plus screen split is used for the panel at the bottom (split is set to line 199, so that the split occurs on line 200)
Plus pixel by pixel hardware scroll is not used.
Some sprites are software sprites (weapons, bird)
Z80 Interrupt mode 2 is used (IVR auto-clear is active. All interrupt vectors point to the same function).
Links