Super Pinball Magic (cartridge)
From CPCWiki - THE Amstrad CPC encyclopedia!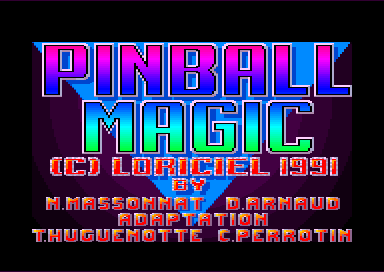 The GX4000/PLUS Cartridge version of an existing Mode1 CPC game.
Many graphic improvements and PLUS extra features were added.
One of the few Pinball simulation using Mode 0 and one of the best Amstrad 8 bit Pinball simulation.
Cover
Covers from CPCmania
Fan-service featured.
Cartridge
Manual
You can download in PDF from CPCmania ( See the links ).
Game
You can download in CPR for use in emulators and BIN from CPCmania ( See the links ).
CPC version

Comparison between CPC and GX4000/PLUS versions
You may get it there :
http://www.cpc-power.com/index.php?page=detail&num=1636
Video
Gameplay Run-through courtesy from Xyphoes.
Links
http://www.cpcmania.com/ ( on the games section : GX4000/CPC+ GAMES )