Abadia Del Crimen
From CPCWiki - THE Amstrad CPC encyclopedia!
One of the greatest CPC games ever written, La Abadia Del Crimen was only ever released in Spain and remains the high watermark against which all Spanish games are judged. A technical triumph.
Inlay Text
Please note that this is a translation of the original Spanish text
"Do not follow false doctrines that spread pestilent seeds", wrote His Holiness Clement VI in the year 1346, to teachers and pupils of the university of Paris. The Pontiff was referring in that letter to the doctrines of a Franciscan monk of English origin called Guillermo of Occam, who had escaped from the prison of Avignon some years previously accused of heresy. For four years he was held until he had the chance to flee, asking for asylum in the court of the Emperor Louis of Bavaria, who was by then feuding with Pope John XXIII. Once the Emperor died, Guillermo wanted to reunite with his church and his Franciscan order. For this reason he then travelled to Italy, accompanied by his young Novice, to meet Bernardo Gui, who was by then in charge of the Inquisition in that area, and in effect, a representative of the Pope.
But it is not quite clear if Guillermo actually achieved his goal. All that remains is the testimony left by his Novice years later, in a collection of scrolls which relate the amazing and terrible events that took place during the week they spent in the abbey.
The testimony of the story that you are now about to re-live...
| | | |
| --- | --- | --- |
| | | |
Videos
None
Ratings
None
Cheat Mode
Map & Tips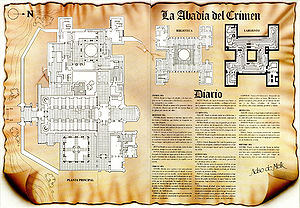 Prequels / Sequels
None
Compilations & Re-releases
Re-Released by MCM Software
Appeared on the following Compilations
Trivia
Based on the novel Il Nome Della Rosa by Italian author Umberto Eco, it may be better known to English speaking readers as The Name of the Rose, which was made into a 1986 film starring Sean Connery and Christian Slater.
An unofficial translation of the MSX version was released to celebrate the game's 15th anniversary and a link can be found in the weblinks section below.
Downloads & Materials
Weblinks