Android 2
From CPCWiki - THE Amstrad CPC encyclopedia!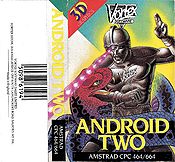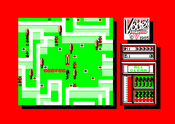 | | |
| --- | --- |
| Title: | Android 2 |
| Company: | Vortex Software |
| Type: | Arcade (Misc) |
| Year: | 1985 |
| No of Players: | 1 |
| Language: | English |
Plot
Android 2 by by Costa Panayi
Stop the advance of the Millitoids. Survive the maze of death, rationalise the paradox zone and overcome the dangers encountered in the flatlands.
Achieve this and return to the transporter capsule before the departure dead line. But beware. There are lethal Hoverdroid, Bouncers and land mines everywhere.
3D full colour graphic effects, fast action machine code and multi-screen wrap around zones make Android Two a mindblowing action game.
Overview
The follow-up to pretty average shoot-em-up Android One, Android 2 presents a tougher challenge than first perception seems to indicate.
Navigating your way around the maze can be both confusing and difficult to get to grips with and the sheer panic when you get cornered by a millitioid and a robot drone can be overwhelming at first.
Practice, however, makes perfect and while a challenge, the game should not be too difficult for the more dedicated player. Has stood the test of time well and there's a retro charm and feel to proceedings.
Reaction
Android 2 was certainly viewed as being a superior product to the original game. Amstrad Action praised the "Excellent 3D Graphics" and "Disgusting Opponents" and reckons that while "Android 2 has only three zones of action there's more than enough going on to satisfy hardened gamers."
| | | | |
| --- | --- | --- | --- |
| AA: | Issue 02 (Nov '85) | Page 48-49 | 75% |
Prequels/Sequels
Compilations & Re-Releases
Trivia
Android 2 was also released on the ZX Spectrum & C64 (where it was published under licence by [Ocean])
The CPC Version was coded by Chris Wood
By the Same Author
Resources
None
Links