CTM640/CTM644
From CPCWiki - THE Amstrad CPC encyclopedia!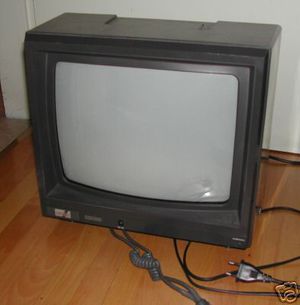 These were the colour monitors sold together with the classic CPC-computers. Optionally, the computer could have been purchased with GT64/GT65 green monitors.
The only difference between the CTM640 and CTM644 models is the additional 12V power supply for the CPC664/CPC6128's disk drive in the later model.
With the arrival of the CPC664 and CPC6128 models, the existing stock of CTM640 monitors was sold out and later only CTM644 monitors were sold, even with the CPC464. For that reason, the 12V power outlet was designed as a socket for a cable coming from the CPC, while all other connections were made with cables coming from the monitor.
Technical Specs.
Tube diameter:
36cm/14"
Visible diameter:
34cm/13.5"
Input voltage:
220V~/50Hz
Power consumption:
65W
Output voltage:
5V
12V (CTM644 only)
Pictures
Weblinks
User Manual
The procedure of setting up the CPC with the CTM640/CTM644 monitors is described in the CPC computer's User Manual.
Service Manual / Schematics
Schematics and part lists can be found in the Service Manuals: