(6 intermediate revisions by 2 users not shown)
Line 1:
Line 1:
−

A Greek CPC demo coder and fanzine writer. Catloc stood for "Chris Archontides, The Legend On CPC".

+

A Greek CPC demo coderand fanzine writer.  

 
+

Catloc stood for "Chris Archontides, The Legend On CPC".

 
+

 

 
+
 
+

 

 
+
 
+

 

 
+

 

 
+
 
+

 

 
 
 

== Released Demos  ==

 

== Released Demos  ==

 
 
−

*[[Camembert Meeting Demo|Camembert Meeting Demo<br><br>]]

+

*[[

 
+

Meeting

 
+
 
+
 
+
 
+
 
+
 
+
 
+

Demo

 
+

Meeting

 
+
 
+
 
+
 
+
 
+
 
+
 
+
 
+
 
+

 

 
+
 
+

 

 
+
 
+
 
+

 

 
+
 
+
 
+

 

 
+

 

 
+
 
+

]]
---
Latest revision as of 17:21, 4 May 2012
A Greek CPC demo coder, logo-maker and fanzine writer. Catloc stood for "Chris Archontides, The Legend On CPC".
Catloc was a member firstly at UGC, then FTS, after that Chaos, Virtual Progress and finally BRS / Brothers.
Chrisovalantis (Χρυσοβαλάντης) died in August of 2003 of unknown cause..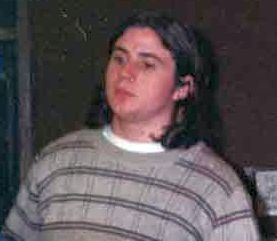 Released Demos
Released Diskzine
Tree a bilingual diskzine (with Greek and English texts). Two issues were released.
Released Tools