Main Page
From CPCWiki - THE Amstrad CPC encyclopedia!
This site is an encyclopaedia on all things Amstrad CPC related. There are now 4,718 articles about the CPC available.



CPC Related News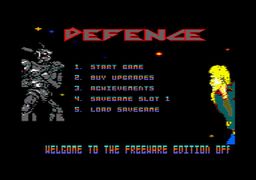 05/01/17: Easter Egg: Anti-rad and Bruce Lee II for CPC/PlayCity canceled.
05/01/17: Easter Egg: Cybernoid II HD for PLUS/GX4000 canceled.
05/01/17: ACME: X-MEM 2 (4MB RAM/ROM expansion) canceled.
05/01/17: ACME: Cent Pour Cent [dot net] website say goodbye.
14/11/16: FutureOS important update released.
04/11/16: Magica released Forum
10/10/16: Imperial Mahjong released. Forum
01/10/16: Get The Cash released.
13/09/16: Firmware v1.0.9 for M4 board released. [1]
12/09/16: Cyber Chicken on DSK released. [2]
08/09/16: Norton-Commander-Clone released. Forum
11/08/16: Orgams "Codigo Con CPC" released. Download page
10/08/16: Golden tail released.
16/05/16: MultiPlay add a dual joystick/mouse to your CPC.
04/04/16: Dobbertin Smart Watch as new batch released by dxs
22/03/16: A Prelude to Chaos by EgoTrip released!
15/03/16: Amstrad Eterno event in Spain announced for April the 16th!
20/12/15: After more than one decade Overlanders released Points Barres
27/11/15: New game released! The Return of Traxtor
Did you know?

When the 664 was being developed, Sugar was already looking (and hinting publicly!) at the 6128
The CPC 472 was a model released in Spain with an extra unaccessible 8 KB of RAM to circumvent a spanish tax that was charged on imported machines with up to 64 KB memory.

With a possible total amount of 832 x 288 pixel (576 interlaced) the CPC was the 8 bit homecomputer with the highest screen resolution ever.

OpenOffice for Windows/Linux is a direct descendant of StarWriter for the CPC.
The transfer speed of the CPC Booster + serial interface is faster than a standard DSL connection.