Main Page
From CPCWiki - THE Amstrad CPC encyclopedia!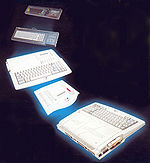 Welcome to the Amstrad CPC Wiki!
This site hopes to evolve into an encyclopaedia on all things Amstrad CPC related. There are now 4,718 articles around the CPC available. Feel free to contribute or post your suggestions here, or in the discussion page!


The server move has now been completed, and the wiki software has been updated. Please do report all problems in our Forum!
Again, so many thanks to
Kangaroo
who took care of everything, really, and with
zero downtime
!!!
The last CPC related news.

Donors

These people were kind enough to donate. Please consider helping with hosting costs - all contributions go directly to our kind host, not our own pockets!

Thanks so much guys!

Become an Author!

We are searching for authors of the following articles:

CPCWiki updates

CPCWiki has moved to a new server. Software has been updated:

MediaWiki: 1.9.3
PHP: 5.1.6 (apache2handler)
MySQL: 5.0.27

The CPCWiki now uses about 2.2 GigaBytes for file- and article-storage and about 1.7 GB Traffic! WOW!
New gallery software has been installed! Please upload your pictures there!
As of yesterday, we now have a dedicated forum where we can discuss all things related to the wiki, since it's much more useable than discussion pages. Please do drop by!!! Gryzor 09:03, 22 November 2006 (CET)
Add the CPCWiki to your Homepage. Check out About#Wiki-Napping and start napping this Wiki.

Where are you from?

Help clarify the nationality of CPCWIKI users! Participate in the pool on the cpcwiki forum.

[Pool thread] (please register)