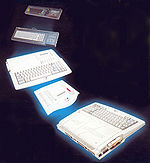 Welcome to the Amstrad CPC Wiki!
This site hopes to evolve into an encyclopaedia on all things Amstrad CPC related. There are now 4,719 articles around the CPC available. Feel free to contribute or post your suggestions in the Forum!


The last CPC related news.

Donors

These people were kind enough to donate. Please consider helping with hosting costs - all contributions go directly to our kind host, not our own pockets!

Become an Author!

We are searching for authors of the following articles:

CPCWiki updates

FCKEditor installed! Now you can easily edit pages. Please report any functionality issues. You can also deactivate it in your user preferences.
VIDEO EMBEDDING enabled for the wiki! Woo-hoo!!!
MULTIPLE FILE UPLOAD FORM installed. For the time being it doesn't work alright when put in the sidebar...
MediaWiki v.1.11.0 installed. Please report any unwanted behavior!
Breadcrumbs extension installed - shows your visit path under the title. Useful for browing around! :)
Maintenance:




Spambot users blocked (if you're blocked by mistake, please visit the forum and ask us to unblock you)
CPCWiki software updated to 1.10.0
reCAPTCHA installed to prevent spambots from registering accounts.

All the issues of Amtix!, Amstrad Action and Amstrad Computer User have been uploaded and you can find them here!
Due to increasing spam posts, anonymous posting has now been blocked. Please log in to post or edit!
Add the CPCWiki to your Homepage. Check out About#Wiki-Napping and start napping this Wiki.

Where are you from?

Help clarify the nationality of CPCWIKI users!

Participate in the pool on the cpcwiki forum.





[Pool thread] (please register)

View edit history of this page.