Main Page
From CPCWiki - THE Amstrad CPC encyclopedia!
This site hopes to evolve into an encyclopaedia on all things Amstrad CPC related. There are now 4,719 articles around the CPC available.



CPC Related News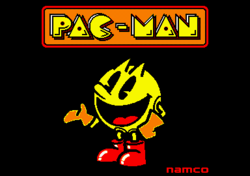 07/01/13: Teodoro No Sabe Volar released!
01/01/13: Announcing the first [[Amstrad_CPC_16KBs_ROM_Game_Development_Competition_2013|Amstrad CPC 16KBs ROM Game Development Competition!
01/12/12: Major CPCWiki software upgrade; please report any bugs in the forum!
07/04/12: Wake Up! by Benediction (and associates) reached the 3rd place in Olschool demo compo at the Revision Party 2012 in Germany.
01/04/12: Pac-Man Emulator released!
18/03/12: Wolfenstrad demo released!
15/03/12: New version of Basic released for the Amstrad CPC. Check it out here: CPC Basic 3
08/02/12: dsktools 0.2.3 can copy R-Type!
06/02/12: R-Type remake released finally - and is awesome!
26/12/11: Bubble Bobble remake released!!! Happy holidays!
Did you know?

When the 664 was being developed, Sugar was already looking (and hinting publicly!) at the 6128
The CPC 472 was a model released in Spain with an extra unaccessible 8 KB of RAM to circumvent a spanish tax that was charged on imported machines with up to 64 KB memory.

With a possible total amount of 832 x 288 pixel (576 interlaced) the CPC was the 8 bit homecomputer with the highest screen resolution ever.

OpenOffice for Windows/Linux is a direct descendant of StarWriter for the CPC.
The transfer speed of the CPC Booster + serial interface is faster than a standard DSL connection.