Amstrad Expo 1990
From CPCWiki - THE Amstrad CPC encyclopedia!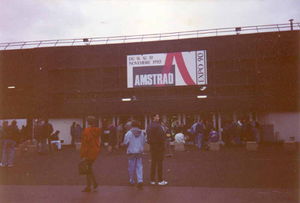 Amstrad Expo was a big show organised by Amstrad to present all new products
All the Amstrad staff was present and a mediatic conference was given by the boss Mr Sugar himself. (and of course, the Amstrad France staff)
Many others companies, revolving around the amstrad universe, were represented and especially all the french mags, like Amstrad Cent Pour Cent and games editors.
In 1990, a place was accorded too for the Fanzine phenomenon and it was the beginning of the AFC (Association Fanzines Cpc), which presents themselve as instigator promoters of all fanzines.
It was a show that no cpc addict can miss. And of course it was the place where it was possible to meet lot of demomakers. In 1990, Logon System presented his new demo The Demo
The show was organised in "Exposition Park" near "Porte de Versailles" in Paris from 16 to 19th november 1990.
Gallery
Some photos of Amstrad Expo 90