MM12
From CPCWiki - THE Amstrad CPC encyclopedia!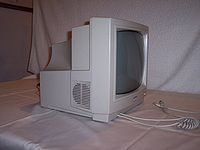 This was the amber monochrome monitor sold together with the CPC464plus/CPC6128plus computers. It was also available as an option to the GX4000 video console.
As the disk drive of the CPC6128plus didn't needed 12V anymore, the monitor provided a 5V power supply only. Unlike the precedessors GT64/GT65 it also had built-in stereo speakers and thus a different connector for the signals. It can therefore not be used for the classic CPCs without adaptor cable.
Technical Specs.
| | |
| --- | --- |
| Tube diameter: | 30.5cm/12" |
| Visible diameter: |  ??cm/??" |
| Input voltage: | 220V~/50Hz |
| Power consumption: | 42W / 0.22A |
| Output voltage: | 5V 2.4A |

The MM12 accepts a luminance, sync and ground signal in a similar way to the GT64/GT65. It also has inputs for stereo sound. The luminance is generated by combining the R,G,B signals from the Gate-Array or ASIC using resistors. The range seems to be 0V-5V.
Pictures
Weblinks
Notes
Not to be confused with the Schneider monitor with the same model name, as that one was the Hercules Monochrome monitor for the Schneider EuroPC and similar!
User Manual
The procedure of setting up the CPCplus/GX4000 with the MM12 monitor is described in the CPC464plus/CPC6128plus and GX4000 User Manual.
Service Manual