G-Paint
From CPCWiki - THE Amstrad CPC encyclopedia!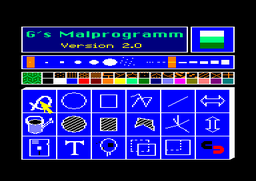 GPaint (as known as G's Malprogramm) was a graphic utility made by Günter Radestock.
Two versions were available. GPaint 1.0 was 64k-compatible, whereas GPaint 2.0 required 128k, and could utilise Günter's Atari-ST mouse adapter and the Vortex RAM expansion. Interestingly, v2.0 also had a screen layout reminiscent of the popular Atari ST art package DEGAS.
GPaint was popular in both Germany and in the United Kingdom, where it was adopted gleefully by many PD libraries.
Features
Unusual features included:
Large proportional fonts
Copying a section from another picture on disc
Saving colour information in 'hidden bytes' in the picture (removing the name for a separate .PAL file)
Zoom mode
File compression (v2.0)
Atari-ST mouse adapter support (v2.0)
The software listing for version 2.0 was printed in the German magazine Schneider Magazin in issue 08/1988 as a utility for the also printed instruction for the Atari-ST mouse adapter of issue 07/1988.
Disc Images