Switchblade (cartridge)
From CPCWiki - THE Amstrad CPC encyclopedia!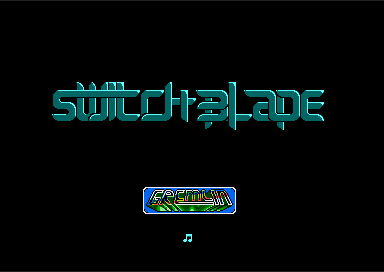 Switchblade on Cartridge is a slightly PLUS enhanced version of the CPC version.
Considered decent and good by most Amstrad fans.
Cover
Covers from CPCmania
Cartridge
Manual
You can download in PDF from CPCmania ( See the links ).
Game
You can download in CPR for use in emulators and BIN from CPCmania ( See the links ).
Implementation details and use of Plus hardware
Mode 1 is used throughout
Multiple plus raster interrupts are used to make the shading in the sky
Plus sprites are used for the Gremlin logo on the title screen (this actually overlays a smaller, software sprite Gremlin logo), and for extra colours and scenery in the game.
(Sprites are x2 in X and x1 in Y, which give a mode 1 equivalent pixel size)
Plus screen split is not used
Plus pixel by pixel hardware scroll is used.
Plus DMA is not used
The game engine seems to be re-used for Striker in the Crypts of Trogan/Stryker and the Crypts of Trogan as the same programmer did both games.
Comparison
Screenshots from CPC version and cartridge version.
Videos
Longplay: {{#ev:youtube|IdJHfsgo4vM|300}} {{#ev:youtube|RnwSoDwIMN8|300}} {{#ev:youtube|PTZeoC92LEk|300}} {{#ev:youtube|mUgO-WTPA5E|300}} {{#ev:youtube|A--p2Rt9iu4|300}}
Links
http://www.cpcmania.com/ ( on the games section : GX4000/CPC+ GAMES )
Striker in the Crypts of Trogan/Stryker and the Crypts of Trogan