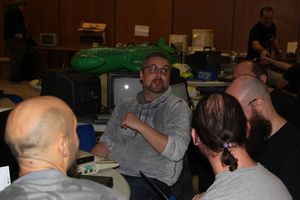 AST is still coding on a Mario-Bros clone for the PC :-) Since 2001 as i think :-D
Actually works on Amstrad Applications, maintains a Forum and helps new coders at Parties.
Often seen at Alchimie squatting other's monitors.
Groups
AST Impact
The Alchimie Ass DestroyerScrew feat. MacDeath the gras-fist from Gogolon System.
Productions
Tools
Links