Batman Forever, often simplified to "the Batman demo", is an Amstrad CPC6128 demo released in 2011 at the Forever demoparty by the Batman Group, a former Amiga demoscene group.
This award-winning demo redefined the Amstrad CPC demoscene. Since its release in 2011, the Amstrad CPC demoscene is still awaiting for a "Batman killer". Many tried, few were close... yet Batman remains undefeated.
Some demoscene aficionados would even comment that this is the best Atari ST demo ever... oh wait?!
It requires a disk drive and 128kb RAM.
It was released at Forever 2011 demoparty and somewhat helped the Amstrad CPC to (re-)gain some publicity in the global old-school demoscene since.
Credits
Awards and Nominations
Scene.org Awards 2011 :
best graphics : 3rd place
breakthrough performance : 3rd place
public choice : winner
best demo on an oldschool platform : Winner
best technical achievement : Winner
Gallery
Mode R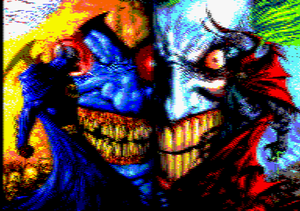 This demo uses
Mode R
, a software video mode designed by Rhino using Mode 0. It uses horizontal interlacing, and can theoretically simulate up to 240 colors on screen at once.
Links