Diamonds
From CPCWiki - THE Amstrad CPC encyclopedia!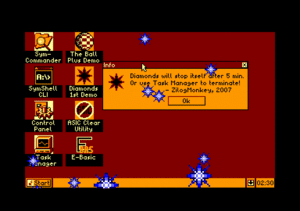 Diamonds is a demo for the Plus only released on 28-02-2007 by ZilogMonkey. The special thing about this demo is that it only runs under the SymbOS enviroment.
Screenshots
Programming
Diamonds was programmed on the WinApe emulator. Tests running Diamonds on real Plus hardware seems to indicate, that there is either a problem with WinApe or/and a bug in Diamonds.
Download
SymbOS Newsgroup on Yahoo Goto file section to download (Registration needed)
Videos
{{#ev:youtube|am9iZyBQ300|300}}