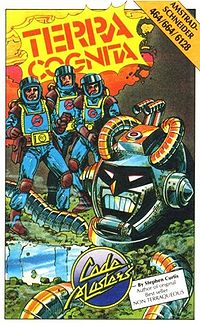 Terra Cognita is a game from Codemasters
Information
Plot
Three mining engineers working on a distant planet called Krion some time in the future have discovered the head of a warrior robot which appeared to be buried. One of the engineers kicks the head and it began to speak and the whole ground started shaking like crazy revealing a huge artificial surface. You have to pilot the scout ship through 100 screens to get out here as fast as possible!
It is noted on the game inlay that this game is a 'sequel' to Nonterraqueous by Mastertronic. (Some say this was a marketing ploy, as the games are not related - Stephen Curtis, the developer and the word 'Terra' are the only common links)
Game Play
This game is a scrolling shoot-em-up, quite a bit different from the previous games by Stephen Curtis. You steer a ship through an obstacle course, shooting, picking items up, avoiding certain items and infrastructure. Flying droids can be destroyed or avoided - they have different patterns of movement, so you will have to be alert. As you fly, certain squares can slow you down or speed you up! There are also time Shift squares, which can set you back a lot. The aim to to get to the end of 100 screens! Joystick or Keyboard. Good luck!
Screenshots
Cover
Reviews
Cheat Mode
Links
Download