Copter 271 (cartridge)
From CPCWiki - THE Amstrad CPC encyclopedia!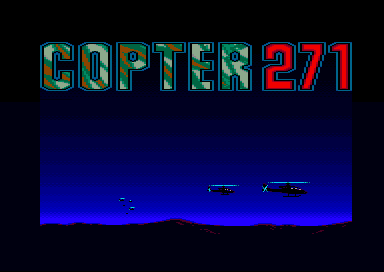 Copter 271 is a vertical shoot them up.
It was the last official game released on Cartridge for the GX4000/Plus range, it was rushed to the released and seems unfinished.
Information
| | |
| --- | --- |
| Title: | Copter 271 ( Cartridge ) |
| Company: | Loriciel |
| Type: | Shoot-em-up |
| Year: | 1991 |
Cover
Covers from CPCmania
Cartridge
Manual
You can download in PDF from CPCmania ( See the links ).
Game
You can download in CPR for use in emulators and BIN from CPCmania ( See the links ).
Critic
The game could have been well realised if more time were given to developers, or simply if they had been less ambitious.

This is a vertical 2-players-co-op shoot them up.
A sweet intro animated cinematic open the game, as the game primary aimed to be a GX4000 super production, halas the decline of the console rushed its release and many bugs are still present.
While being a vertical scrolling shooter, you can also scroll aside the screen, this is of course quite heavier for the machine..

But it makes perhaps a too heavy use of Hardwired sprites (need a lot of DATA space and time to upload into the ASIC) and also features too many scrollings (multidirectionnal actually, but the sidescrolling is really un-needed), sprites are perhaps too big too (given most of those are Hardwired sprites).
This game slows down a lot and your shoots (machine gun) are too small/unvisible/slow to be gameplaywise.
The copter sound is also quite annoying, but of course it is best to disable all sounds effects... due to the "bullet-time-perpetual-slow-motion".
Some colours/inks seems to have been be badly chosen/set too.
This game would have nedded less technical ambition and bigger Eprom cartridges too to be actually good.
Video
Courtesy from Xyphoe.
Implementation details and use of Plus hardware
Mode 0 is used in game for the play area, mode 1 is used in game for panel.
Plus palette is used
Plus raster interrupt is used
Plus soft scroll is used (the left column is also masked)
Plus DMA channel 0 is used to generate interrupts to do the background sky effect in the title screen
Plus DMA channel 1 is used to play the title music
Software sprites are used for enemies in the game
Plus sprites are used for the player's aircraft and the shooting stars in the title screen
Plus split screen is used in the game (it is switched between the panel and play area)
Links