Dirk Headstrong and the Martian Madness
From CPCWiki - THE Amstrad CPC encyclopedia!
Dirk Headstrong and the Martian Madness is a 3D action-adventure game written using 3D Construction Kit by Zoe Robinson, live on YouTube. The game was developed from scratch over several episodes of GameHammer Live Game Coding, in 2019 and 2020.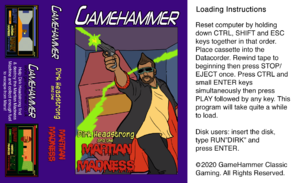 You play as intergalactic troubleshooter Dirk Headstrong, who has received a signal coming from Mars Base. The signal seems designed to turn all humans insane! Landing at the base, Dirk discovers it has been evacuated because his long-time enemies, the dreaded Bondaks, have invaded. Now he must collect enough fuel to escape from the base while also locating and destroying the Martian Madness Machine.
Download