Pirates!
From CPCWiki - THE Amstrad CPC encyclopedia!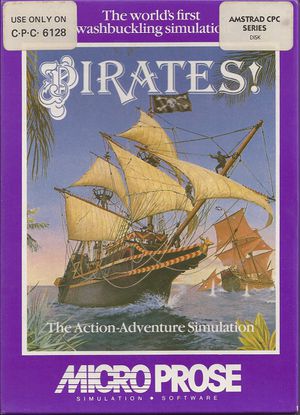 Released by Microprose in 1988.

This game was one of the best of it's generation, with a deepth and replay value far beyond so many productions.
It was ported on most 80's standards : C64 (looks quite a lot like the amstrad CPC version), Atari ST, Amiga, PC and more.
Some new updated versions were made too : "Pirates! gold" (with VGA colours on PC) and a modern PC "Sid Meyer's Pirates!" 3D version in 2004.

It is notable for being one of the (too) rare 6128 specific game : only disk version and 128Ko Ram were supported.
In theory, 464 (+ disk drive) and 664 with Extra Ram upgrade should work. (maybe not ?)
It included a lot of Graphics (Mode 0) and musics.
Games sequences, possibilities and mechanics were varied.

Despite it's ultimate awesomness, the Amstrad CPC port was a bit slow and Graphics could have been a bit better... As they were probably ported from the C64 version.

Pirates! on wikipedia The lost taver More infos about different versions of the game, manual and map downloads Pirates! on the C64-Wiki (german)