720°
From CPCWiki - THE Amstrad CPC encyclopedia!
720°

Release
1987
Publisher
U.S. Gold
Developer
Tiertex
Programmer
Unknown
Musician
Unknown
Artist
Unknown
Genre
Sports (Skating)
Players
1
Controls
Language
Media
Compatability
464, 664, 6128 & Plus
Magazine Reviews
* AA 028 - 69%
* CWTA 038 - 88%
Information
* Appeared on disk 2, side A of the compilation Giants

720° is a conversion of the skateboarding coin-op from Atari, published by U.S. Gold.
Inlay Text
THE GAME The player controls a skateboarder. The object of the game is to perform stunts accumulating points for which skate park tickets are obtained. In the parks you compete to gain medals and cash. Cash may be used to purchase better equipment(e.g. boards, shoes, pads, protective helmets) which improves the performance of the player.

Select keyboard or joystick and then press key 1 for three credits. You can then skate around "Skate City" visiting the four shops and four parks. There are four parks in "Skate City" each of which may be visited only once on each level of the game. The parks are Downhill, Jump, Ramp and Slalom.

The locations of these are indicated on a map which appears on the screen if you pass over a "map" square. Activating the joystick continues the game, these are pointed to by "D" markers - Downhill, "J"-Jump, "R" - Ramp, "S" - Slalom.

Tickets are used as the parks are visited (under the T on the screen). Extra tickets are awarded at 5,000, 15,000, 25,000, 35,000 etc. points. Medals are awarded for good performance in the parks, with cash prizes and bonus points.

After visiting each park a status sheet is displayed indicating medals awarded. High score and remaining credits also. When in the vicinity of a shop an icon to the right of the screen flashes alternately with the price. These icons represent helmets, shoes, skateboard and pads. The level of equipment is indicated alongside the appropriate icon. Approaching the counter at the correct place either results in a "SALE" or "NO SALE" message.

Bonus points are awarded for remaining cash at the end of the game.
If the player does not enter a park within the time limit displayed on the bar timer, he is pursued by killer bees. These become more dangerous if the player does not enter a park quickly, transforming into various objects. Extra points may be gained by passing over certain hidden locations.

Dollar bills on the road may be collected. The player should avoid contact with other characters appearing on the screen.

KEYBOARD CONTROLS Q - Turn anticlockwise; W - Turn clockwise; J - Jump; K - Kick; L - Stop. Rotation keys Q and W are used to select the direction. Pressing K will cause the player to turn off. P - Pause; C - Screen colour; X - Exit Skate City to start.
Screenshots
Cheat Mode
Multiface
8027,00 - Infinite Lives 9528,00 - Infinite Credits 80B8,00 - Infinite Tickets
Trivia
Conversion of the Arcade coin-op of the same name
Also available on

Nintendo Entertainment System
Resources
Cover
U.S. Gold Release




Erbe Release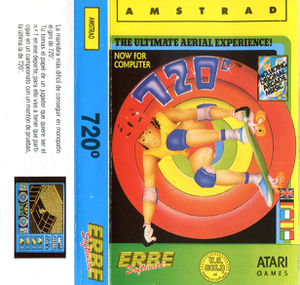 Kixx Release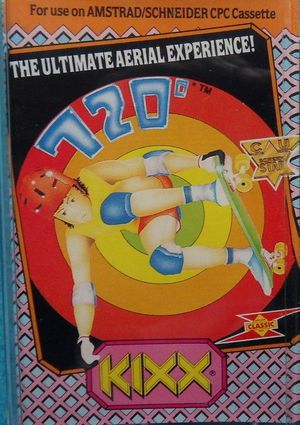 Instructions
Adverts
Media Scan
U.S. Gold Disk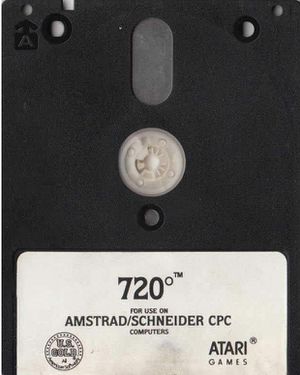 U.S. Gold Tape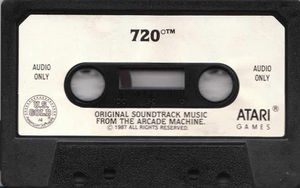 Kixx Tape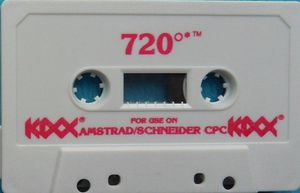 Reviews
Amstrad Action 28 - Jan 1988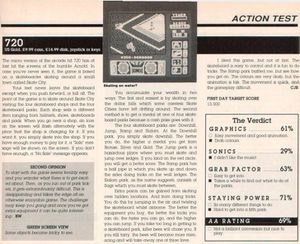 Computing With the Amstrad 38 - Feb 1988


Music
Original Coin-Op Soundtrack (Given away as the B-Side to the original U.S. Gold Release)
Magazine References
| | | | | |
| --- | --- | --- | --- | --- |
| Magazine | Issue | Date | Page | Reference Type |
| Advanced Computer Entertainment | 002 | Nov 1987 | 7 | News/Note |
| Advanced Computer Entertainment | 002 | Nov 1987 | 22-23 | Advert (reproduced above) |
| Advanced Computer Entertainment | 003 | Dec 1987 | 114-115 | Advert (reproduced above) |
| Computing With The Amstrad | 036 | Dec 1987 | 5 | News/Note |
| Amstrad Action | 028 | Jan 1988 | 44 | Competition |
| Amstrad Action | 028 | Jan 1988 | 53 | Review (reproduced above) |
| Computing With The Amstrad | 038 | Feb 1988 | 20 | Review (reproduced above) |
| Amstrad Action | 031 | Apr 1988 | 3 | Advert (reproduced above) |
| Amstrad Action | 033 | Jun 1988 | 57 | Poke |
| Amstrad Computer User | 044 | Aug 1988 | 5 | News/Note |
| Amstrad Action | 038 | Nov 1988 | 65 | Multiface Poke (reproduced above) |
| Amstrad Action | 040 | Jan 1989 | 18 | Feature: The AA Games Awards 1988 |
| Amstrad Computer User | 050 | Feb 1989 | 26 | Multiface Poke (reproduced above) |
| Amstrad Action | 046 | Jul 1989 | 18 | News/Note |
| CPC Attack | 006 | Nov 1992 | 43 | Multiface Poke (reproduced above) |
| Amstrad Action | 090 | Mar 1993 | 18 | Multiface Poke (reproduced above) |
| Amstrad Action | 098 | Nov 1993 | 46 | Feature: Complete Budget Games Round-Up |
Links