ACU August 1986 - Type-ins
From CPCWiki - THE Amstrad CPC encyclopedia!
Return to ACU Type-Ins
Downloads
Disk Image
Disk Image (enhanced version by "CP/M User")
Cover Image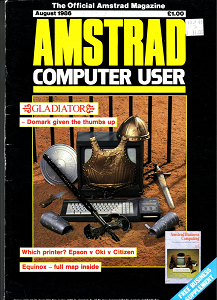 Interceptor
To run Interceptor, type:
RUN"INTERCEP.TOR"

To run the enhanced version, type:
RUN"DISC"

Interceptor is a game resembling a simple version of G-LOC.

CP/M User has spiced it up by adding a very nice loading screen, improving the gameplay, and speeding up the code.
In the enhanced version, missiles and fuel are now replenished every 100 points until 500 points are reached.