Dobbertin EPROM 224
From CPCWiki - THE Amstrad CPC encyclopedia!

EPROM-Karte 224 is a rombox, manufactured by Dobbertin, capacity is 7x32K (=224K) max.
Technical Specifications
Allows up to 7 roms of type 27128 or type 27256 to be connected to the CPC.
This rombox allows individual settings for each rom(via a jumper block). This way the rombox has a maximum capacity of 224Kb (7*32Kb). Also individual roms can be turned on/off by setting a jumper.
Testing indicates normal decoding is done of the ROM select I/O port: e.g. Bit 13=0, all others are ignored. In addition, ROM select IDs do not repeat, so that a ROM in slot 1, only exists in this slot and no others.
Promo
Dobbertin EPROM 224 Promo
Pictures
Dobbertin EPROM 224 Pictures
Other Dobbertin rombords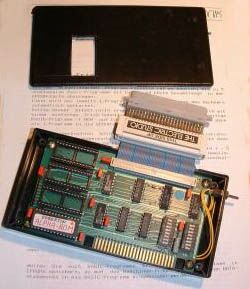 There existed other romboards manufactured by Dobbertin Little is know of them!