Fischertechnik Trainingsrobot
From CPCWiki - THE Amstrad CPC encyclopedia!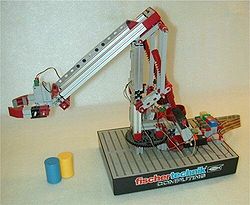 The Trainingsrobot is a robotic arm made by the German company Fischertechnik.
Note: Fischertechnik additionally made the Fischertechnik Computing Experimental robot kit for the CPC.
This trainingsrobot was also produced for other 8bit computers of the era (Commodore 64/VIC20 and the BBC micro). The only difference was the interface.
Technical
Connects to the Fischertechnik Interface (see there for details).
Reviews
The trainingsrobot was reviewed in the danish magazine Amstradbladet 1986, Issue 3/4 (page 4-6)
Pictures
Fischertechnik Trainingsrobot
Weblinks