Forrest picture
From CPCWiki - THE Amstrad CPC encyclopedia!
Forrest Picture is a picture drawn by Mr. Lous girlfriend, and is a demonstration on how to use the graphic abilities of the CPC.
The picture uses mode 1 of the CPC. The graphic mode is limited to 4 simultanious colors. After publication the picture became the subject on how to break the 4 colour limit in mode 1 using rasters. Subsequent T&J wrote a small program showing how the picture would look like using rasters generated by the gate array.
Original picture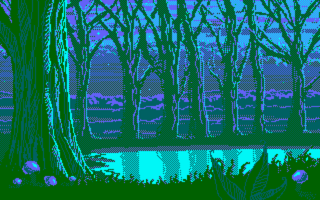 Picture using rasters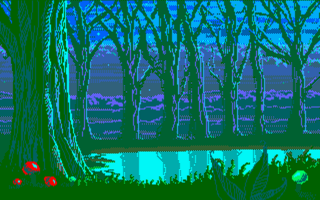 Sourcecode
<geshi lang=z80>
Example of rasters in a MODE 1 screen

T&J/GPA in 2009
Done under WINAPE

Not tested on a real CPC, so maybe it needs some timing adjustments
Wait for Color Lines ! Rasters inside !!
ORG &9000 NOLIST WRITE "RASTERS.BIN"
black equ &54 grey equ &41 green_19 equ &51 red_6 equ &4C blue_1 equ &44 blue_11 equ &57 blue_14 equ &5F bleu_clair equ &53
violet equ &58
JP booter
save38 defw &0
Booter DI LD HL,(&38) LD (save38),HL LD HL,&C9FB LD (&38),HL EI

main DI LD B,&F5 sync IN A,(C) RRA JR NC,sync
CALL scan_spacekey CP &7F JP Z,endit
LD BC,&7F02  ; sky OUT (C),C LD A,blue_11 OUT (C),A
EI
HALT
HALT
LD HL,&FDD0 wait1 INC HL LD A,H AND A JR NZ,wait1
LD BC,&7F02 OUT (C),C LD A,&5F OUT (C),A
HALT HALT
LD HL,&FFC0 wait2 INC HL LD A,H AND A JR NZ,wait2
LD BC,&7F02 ; board of the lake OUT (C),C LD A,grey OUT (C),A
LD HL,&FF74 wait3 INC HL LD A,H AND A JR NZ,wait3
LD BC,&7F02 OUT (C),C
LD D,green_19 LD E,red_6
DI
LD A,&40
split1 OUT (C),E  ; red mushrooms PUSH AF NOP NOP NOP NOP NOP OUT (C),D  ; green mushroom
NOP NOP NOP
LD A,&9 waitsp1 DEC A JR NZ,waitsp1
POP AF DEC A JR NZ,split1
JP main
endit
LD BC,&7F02  ; sky OUT (C),C LD A,blue_14 OUT (C),A
LD HL,(save38) DI LD (&38),HL EI RET
scan_spacekey
LD BC,&F40E OUT (C),C LD BC,&F6C0 OUT (C),C LD C,&0 OUT (C),C LD BC,&F792 OUT (C),C LD BC,&F645 OUT (C),C LD B,&F4 IN A,(C) LD BC,&F782 OUT (C),C LD BC,&F600 OUT (C),C RET </geshi>
Download
DSK image with picture and source code
Links
If rasters provide improvement is up for debate at: