Side Select Switch
From CPCWiki - THE Amstrad CPC encyclopedia!
The CPC floppy disc controller does support double sided, double density disc drives. Unfortunately, AMSDOS is designed for single sided disc drives, e.g. the disc drive that is used with CPC664, CPC6128, CPC6128+, DDI-1 and FD-1 are single sided. Meaning it is possible to use both sides (A & B) of a 3" floppy disc by turning it over, giving 2 * 178K capacity using DATA format.

However, we have a problem, if you have a 3.5" second floppy drive, you cannot turn over a 3.5" disc and put it into the drive, unlike 3" floppy disc! Meaning that you only get 178K per disc. If you want to use both sides on 3.5" disc with AMSDOS, you will need to build a side switch for CPC 464/664/6128 / 464/6128+ series, giving back our 2 * 178K capacity (or 2 * 396K or 2 * 398K capacity respectably using MS800 - selecting format either no: 4 or 5 respectably).

You could say it acts like FD-1, except you don't need to turn the disc over to use the other side, simply just flick the switch instead to use both sides of a 3.5" disc and you'll get the same capacity as a 3" disc. Lovely and sweet... Lovely and 2 for the price of 1...

The switch has two positions.


When the switch is in position 1:

Side 1 (A) - High Voltage (Red LED) can be used with AMSDOS, MS-800

Both sides can be used with another DOS.


When the switch is in position 2:

Side 2 (B) - Low Voltage (Green LED) can be used with AMSDOS, MS-800

Cannot use this position with another DOS, because only side 2 will be selected and you'll receive an error message!


This modification can be also used with another DOS (e.g. ParaDOS, ROMDOS, etc) to use the full capacity of a 3.5" floppy disc because AMSDOS only supports 40-track single sided discs. All you have to do is leave the switch on "A" or "1" position, depending on which sticker you have used to label the sides on 3.5" disc drive.

Side Select Switch Comments from John King - 20/08/03 © J.R.P.King.
ADDING A SIDE SWITCH TO A 3.5 INCH DRIVE FOR THE CPC.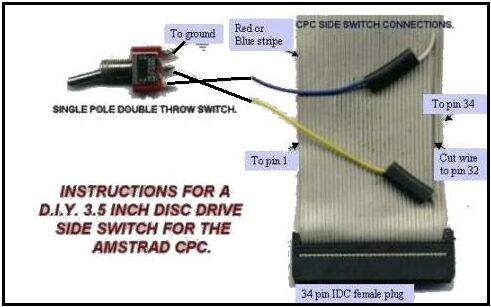 Adding a side switch to your 3.5 inch external disc drive will give you full use of the drives capacity and is quite an easy job but you will need to have access to a wide range of tools. All you will need to buy is a miniature single pole double throw toggle switch e.g. Ultra Miniature Toggle Switch SPDT - Maplin Item Code: FH98G (costs £2.39 each). Firstly decide where you are going to fit the switch remembering that it must not foul existing components and that you need room to solder on the wires, then mark the spot. Next remove the drive plus anything else from the case, take your hole cutter or large drill bit and make your hole, clean up the edges and remove all the metal or plastic cuttings/filings from the drive case. The next job is to cut the 34 way data ribbon cable, place it on a flat surface (a piece of waste wood) and using a razor blade or very sharp knife slice through either side of the pin 32 wire (see above illustration) for about 2 inches, then lift this wire and cut it in half and solder on two lengths of wire. Now reassemble all the components, solder on the wires as per the illustration above -- job done. You would have already decided what software you are going to use with this new set up, so boot up and test it out.
Side Select Switch for Amstrad 6128 Plus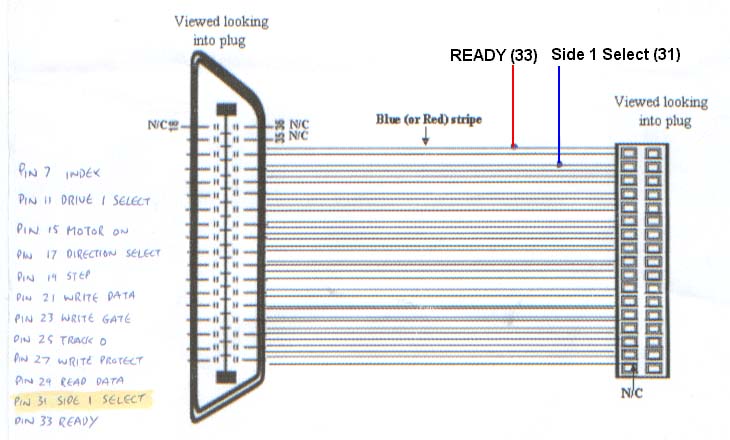 To make a side switch for your CPC6128+.

Firstly follow this diagram as shown above, get your CPC6128+ drive lead, count three wires down from the "stripe", then make a small mark with red or blue marker pen which is the line 31.

Now follow John King's Side Select Switch Comments as shown above - Normal CPC Series only except you make the side switch on the line 31 - marked with a marker pen.