Technician Ted
From CPCWiki - THE Amstrad CPC encyclopedia!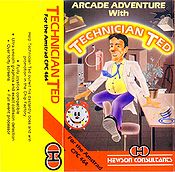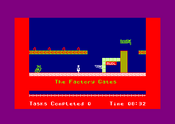 | | |
| --- | --- |
| Title: | Technician Ted |
| Company: | Hewson Consultants |
| Type: | Platformer (Multi Screen) |
| Year: | 1984 |
| No of Players: | 1 |
| Language: | English |
Plot
Technician Ted by Steve Marsden & David Cooke
Technician Ted is an enthusiastic young computer hacker who bounces to work at the local Microprocessor factory every day at 8.30 am. Anxious to please he knows he must complete his 21 daily tasks by clocking off time at 5.00 p.m. or incur the wrath of the Big Boss. But his fiendish boss hasn't told him what the tasks are or where they are located.
Undaunted Ted gets his mate (who also works at the factory) to give him a rough sketch of the rooms close to the Canteen after promising to buy him a cuppa at break:
| | | |
| --- | --- | --- |
| We Call Him Sir | Ted's Desk | Canteen |
| Reception | Cloakroom | Silicon Slice Store |
| Boardroom | Photocopier | Main Corridor |
His mate says the first thing he's got to do is go to his desk then visit the Silicon Slice Store. In each room he has to hit two flashing boxes in the correct sequence.
The only other words of wisdom his mate can come up with is the next task is in the Diffusion Furnace, but unfortunately his mate doesn't know where it is. He does know that for some tasks time is of the essence and the two parts of the task must be completed Megaquickly!
Overview
A platform game in the Jet Set Willy mould with the difficulty cranked up to the max! It will take a long time to be able to see all of the rooms that Technican Ted has to offer let alone get close to completing the game.
One for Miner Willy fans looking for another fix but if you're new to the genre you might want to try something a little easier first!
Reaction
Amstrad Action liked the "good graphics and sound" and felt that "21 tough tasks to complete will take some time" but did have concerns that the game would soon become "frustrating if you get stuck on one task for too long.". It should be noted that had the game been rated in the main body of the magazine rather than the Amsyclopedia, it would have earnt Rave status.
Amtix agreed saying that it "is one of the best platform games around and that probably the worst feature of this game is that it's rather difficualt to get anywhere but, coupled with the fact that it is also addictive to play, most people should find it a very good buy"
| | | | |
| --- | --- | --- | --- |
| AA: | Issue 01 (Oct '85) | Page 58 | 82% |
| Amtix: | Issue 01 (Nov '85) | Page 25 | 85% |
Prequels/Sequels
Compilations & Re-Releases
Game map
Trivia
Also released for the ZX Spectrum
By the Same Author
Resources
Links