Compute mit
From CPCWiki - THE Amstrad CPC encyclopedia!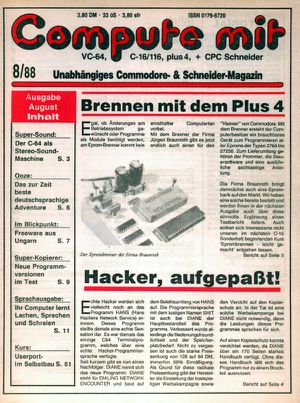 Magazine name: Compute mit
Publisher: Tronic Verlag GmbH und Co., Eschwege
Language: German
Schedule: Monthly
Price: 2,80 DM (1.43 €) / 3,80 DM (1.94 €)
First issue: 23/84
Last issue: 8/88

Editorial staff
Editorial staff

Frank Brall
Thomas Brandt (Chief editor)
Axel Credé (responsible, publisher)
Holger Crede
Siegfried Görk
Torsten Hering
Manfred Kleimann
Volker Lohrengel (Chief editor)
Ottfried Schmidt
Martina Strack
Michael Suck
Hartmut Wendt (Chief editor)
Free-lances

Volker Becker
Rolf Freitag
Target market
The Compute mit aimed at the semi-professional CPC and Commodore user. It contained market news, hardware and software tests and software listings for Amstrad CPC, Commodore C-64, Commodore VIC-20/VC-20, Commodore C-16/C-116 and Commodore Plus/4.
It was printed on newsprint and (title-page excepted) totally in black and white so it could been sold very cheap.