Crack'n Rom
From CPCWiki - THE Amstrad CPC encyclopedia!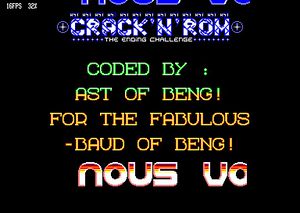 ---
Crack'n Rom was a french disc fanzine in the early 90's. It was realized by a band of young people who lived in the Paris' suburb (Fanconville). The fanzine was created by Katze (sadly died now) and Baud and Wild in 1990-1991.
The first issue was only on a disc-side. Crack'n Rom has been reviewed in Amstrad Cent Pour Cent n° 41 and then a lot of users ordered the fanzine and some news writers and coders joined the team : Toug, Patou, Hydris, Q2K alias Kukulcan, Chany.

Nine issues on disc were published and the team also published a paper fanzines called Le Canard Déchainé, mainly realized by Toug. Le Canard Déchainé was known to be one of the most beautifull paper fanzine thank to the scanned pictures.
If you want to get these fanzines : Zyvawat (at) hotmail.com
CRACK'N ROM etait un fanzine Disc réalisé sur AMSTRAD CPC par une equipe de jeunes gars de la banlieue de PARIS : FRANCONVILLE. Le Fanzine a été crée sur l'idée de KATZE (Décédé depuis : Paix a son ame), BAUD et WILD en 1990-1991. Le premier numero ne tenais que sur une face de la disquette. Apres un petit coup de pub dans AMSTRAD CPC, le fanzine decolla et de nouveaux talents s'associerent a l'equipe de base (Toug, Patou, HDS, Q2K/Kukulcan) ... CNR fit 9 numero sur dk en parallele a un autre fanzine : LCD (Le Canard Dechainé réalisé par TOUG). Si vous desirez decouvrir ou redecouvrir ces numeros ainsi que ceux du Canard Dechaine, n'hesitez pas a me contacter : Zyvawat (at) hotmail.com
Je serais tres content de retrouver certains membres de cette fantastique aventure qu'etait :
... L'AMSTRAD CPC ...
FRANCK aka WILD From CNR aka Zyvawat ...
---
Membres qui ont participé depuis sa creation :
---

Baud : Redacteur
          Rubriques: FANZINES, EXPRESSIONS, NEWS, EDITO, TEST, MENU, TURNDISC 

Wild : Redacteur
           Rubriques : EDITO, EXPRESSIONS, NEWS, MUSIQUE, TEST, MENU, END PART, TURNDISC, INTRO

Katze : Redacteur, Graphistes
           Rubrique : MENU, TEST 

           Rubriques : TEST, END PART, EXPRESSIONS

Hydris : Coder, Graphiste
           Rubriques : ASSEMBLEUR, END PART, INTRO, GAMES PROG

Cjc : Redacteur
           Rubriques : PUB, TEST

Chany : Coder
           Rubriques : INTRO 

Kukulcan / Q2K : Redacteur, Coder
           Rubriques : Bidouilles, Astuces, Initiation A l'Assembleur

LCC : Redacteur
           Rubriques : Test, Jeux

Snap : Redacteur , Coder
          Rubriques: ???

Titi : Graphist
          Rubriques: Turndisc with Kukulcan