Vampire
From CPCWiki - THE Amstrad CPC encyclopedia!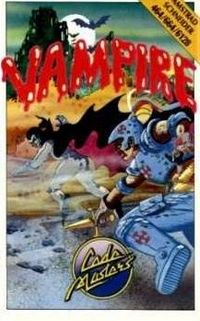 Vampire is a game from Codemasters
Information
| | |
| --- | --- |
| Title: | Vampire |
| Also known as: | Phantomas 2 |
| Written by: | Emilio Salgueiro |
| Company: | Codemasters |
| Type: | Arcade / Platform |
| Year: | 1986 |
Plot
Brok the Brave has returned to earth to find and destroy the evil Count Dracula in his eerie castle of 95 deadly rooms. In order to do this you must find 5 keys and fit them into their 5 locks. You must also open all of the castles shutters (6 of them). Get the hammer, stake and go to the very top to get the cross and then you are ready to take on Dracula!
Game Play
You control Brok the brave around the castle with the ultimate goal of killing Dracula. In order to achieve this, you must navigate your way through various maze like screens, avoiding nasties and solving some puzzles in order to proceed further in the game. Different objects are used to open doors (keys for example). Food replenishes your energy levels. With 95 rooms in this castle to explore, it will keep you amused.
Screenshots
Cover & Inlay
Videos
{{#ev:youtube|tDwqI1sKSbg|340}}
Reviews
Cheat Mode
External Links
Download