Block 9
From CPCWiki - THE Amstrad CPC encyclopedia!
Block 9 is a disk-based fanzine for the Amstrad CPC and Plus ranges of computers. It began life in the early 1990s as a print fanzine but is now distributed via the Internet. The magazine is coded by Zoë Kirk-Robinson, the former editor of the original print run of issues.
History
Block 9 began life as a joint Amstrad/Spectrum fanzine written on a typewriter, with accompanying hand-drawn artwork. The fanzine had a highly irregular production schedule, with three issues being released from January to February 1992. A total of six issues were produced between 1991 and 1993, after which the fanzine was rolled into successor 8/16-bit fanzine Sector Nine.
Block 9 attempted to cater to both gamer and serious computer users. It featured game reviews, short type-ins by the writing team, hardware reviews, hint & tips, and a letters page that was usually populated by characters created by the writing team solely for the purpose of telling jokes. The visual style was quite obvious in its aping of magazines such as Amstrad Action.
The fanzine made regular references to its covertape, which never actually existed. These references ranged from a space being reserved for the tape on the front cover, to outrageous claims about the contents of the previous issue's tape in the letters page. One notable letter praised the cutting-edge nature of the tape's "holographic elephant display".
Print Era Writers
Zoe Robinson (writer, editor)
Elizabeth Robinson (writer, reviewer)
Matthew Walton (writer, reviewer)
Darren Metcalfe (writer, reviewer)
Kieran Bainbridge (writer, reviewer)
Print Era Covers
Disk Era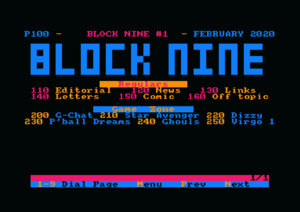 Block 9 re-emerged in January 2000 as a disk magazine, written by Zoë Kirk-Robinson, the editor of the previous print editions. This version of the magazine is entirely focussed on the Amstrad CPC, with only one small "off topic" section covering other machines. Each issue of the 'zine is accompanied by a free game.
While the look and feel of the print issues was heavily influenced by Amstrad Action, the design of the 'zine incarnation is heavily inspired by Teletext and BBS systems.
Issues
All issues of the diskzine will be made available to download, for free.