Main Page
From CPCWiki - THE Amstrad CPC encyclopedia!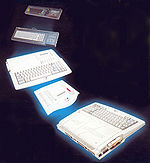 The three last CPC related news.

New Articles

A small selection of new articles.

Become an Author!

We are searching for authors of the following articles:

CPCWiki updates

Woo-hoo! 10.000 hits and going!!!
New gallery software has been installed! Please upload your pictures there!
As of yesterday, we now have a dedicated forum where we can discuss all things related to the wiki, since it's much more useable than discussion pages. Please do drop by!!! Gryzor 09:03, 22 November 2006 (CET)
Finally, and thanks to ChaRleyTroniC's advice, file uploading has been fixed. You can now up mp3, dsk, png, zip, rar, pdf and ogg files! Any other file you'd like to see? Tell us so!!! Gryzor 15:52, 17 November 2006 (CET)
Today our wiki has passed the 1000 article point!!! So many thanks to everyone who has made this possible... let's just try and fill all those stubs :) Gryzor 13:45, 25 October 2006 (CEST)
Several modifications have been done during the last few days. CPCWiki has a new main page now, while the CPCWiki Portal replaced its link list. Also the talk pages Discussion, Suggestions and Main Page talk have been reorganised a little bit. Prodatron 20:15, 2 September 2006 (CEST)
Add the CPCWiki to your Homepage. Check out About#Wiki-Napping and start napping this Wiki.
Server space and bandwidth kindly donated by CMO Internet Dienstleistungen GmbH