180
From CPCWiki - THE Amstrad CPC encyclopedia!

180 is a Darts game by Mastertronic, published on their M.A.D. label.
Inlay Text
You are now the proud owner of the one and only REAL darts game around. 180 has eight different opponents waiting to take you on, a two player option for when your friends want to join in and a practice game to help you win when they do!
Against the computer you'll play in a Championship knockout (coming in at quarter final stage) and to carry off the tournament you have to beat three opponents. The game selects who you'll play and in what order at random each time so that every game is different. Regardless of which of the eight characters appear and when, they will get better as you progress towards the final. Each of the players has his own style of play, with "favourite" doubles and finishing technique. Working this out early in a match can often help you win through.
The practice game, which we suggest you try out first, is there to help you become more skilful at throwing the darts. There is (very) little luck in 180. To win you need to have a good eye and complete mastery of the throw. Practice is against the clock. You have to hit each number in sequence, from 20 to 1, in a limited time. Easy it isnot, but it is a lot of fun and it will develop your skills for the big match!
501 AND ALL THAT
The main game is the "standard" matchplay dats, where the two players compete to see who can score 501 first, on a best out of three basis (called sets). You can throw at any part of the board you like but you must finish by hitting a double, ie. If you need 4 to win, you aim for double two, not single four. The bullseye in the centre of the board counts as "double 25" and is thus a legal finishing shot.
With the maximum possible score being the (infamous) 180 (three treble 20 hits) it follows that the highest number you can finish from is 170 (two treble 20, bullseye) and there are "preferred" (ie. easier) ways to score most of the possible winning combinations below that. In real life the players in a match take turns throwing first – it is called "having the darts" – and thus the advantage is shared equally between them. The player who throws first should also be first to go for the winning double, all else being equal. However, in 180 you will always get the darts first – don't waste them!
CONTROLLING THE THROW
Joystick is the recommended method of taking your shots, but you use the keyboard follow the on screen instructions to define your own choice of keys, and with regard to which joystick interfaces are supported.
Push up to start "your" hand into motion. You'll notice very quickly that up, down, left and right don't work! Only diagonal movements are responded to in order to simulate the difficulty of lining up and successfully hitting the dartboard from nearly eight feet away. Push FIRE to throw. The control system feels a little odd at first, but you'll soon get used to it. Practice will make (nearly) perfect – honest!
Play the tune-up game a few times!
SCREENING AND THROWING
Whilst you are taking your turn at the board, the screen shows the hand holding your dart, the board itself and the automatic blackboard. Make your three shots and the score is automatically chalked up for you. At the bottom of the board is shown your opponents score. Once you've played, the screen will switch to an animated sequence as your opponent tries to defeat you! (Look out for happenings in the background!) Just as in the real world, there is nothing you can do here except watch and weep as all your well laid plans are shot to pieces…
THE MAGNIFICENT EIGHT
So that you will know what, or who, to expect here is the list of experts you might be called upon to play against in 180. Depending on what stage of the competition you meet them their rating could be anything from fantastic upwards, although some are always better and will play differently. But we're not going to tell you any more than that – there have to be some surprises in life after all: -
Quarter and semi finals: Mega Mick, Belly Bill, Delboy Des, Devious Dave, Sure Shot Sidney, Limp Wrist Larry, Tactical Tel
Final: Jammy Jim, World Champion and ace dart player. To beat him you have to be more than just amazing.
Screenshots
Cheat Mode
None. If you have any hints, tips or cheats for this game - please contribute!
Trivia
Resources
Cover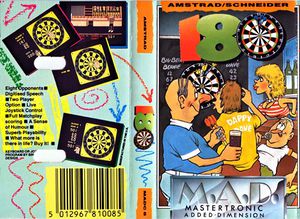 Manual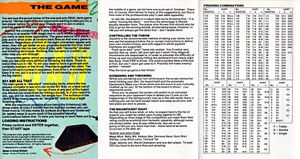 Media Scan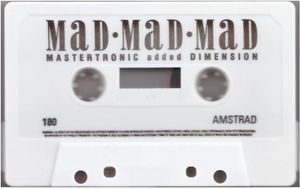 Reviews
From Amtix 15 (January 87)





From AA 017 (February 87)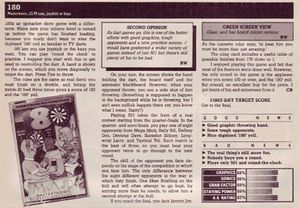 From ACE 02 (November 88)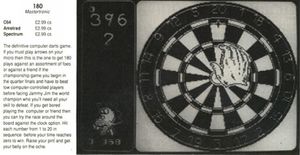 Music
Magazine References
| | | | | |
| --- | --- | --- | --- | --- |
| Magazine | Issue | Date | Page | Reference Type |
| Amtix | 015 | Jan 1987 | 129 | Review (reproduced above) |
| Amstrad Action | 017 | Feb 1987 | 63 | Review (reproduced above) |
| Advanced Computer Entertainment | 002 | Nov 1988 | 83 | Review (reproduced above) |
| Amstrad Action | 081 | Jun 1992 | 56 | Feature: Sport Sims |
Links
For more info: