Megaplay Volume 1
From CPCWiki - THE Amstrad CPC encyclopedia!
Megaplay Volume 1

Release
1988
Publisher
Virgin Mastertronic
Developer
Various
Programmer
Various
Musician
Various
Artist
Various
Genre
Compilation
Players
Various
Controls
Various
Language
Media
Compatability
464, 664, 6128 & Plus
Magazine Reviews
73% - AA 040 (Jan 89)
Information

'Megaplay Volume 1' is a compilation of six Mastertronic titles from across their various labels. The Cassette and Disk versions have a slightly different line-up.
Cassette Version
Disk Version
Screenshots
Trivia
Resources
Media Scan
Cassette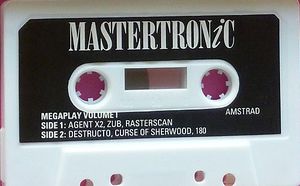 Disk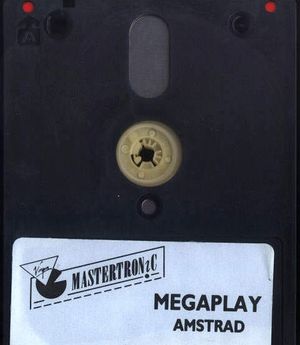 Reviews
By Gary Barrett (AA 040 - January 1989)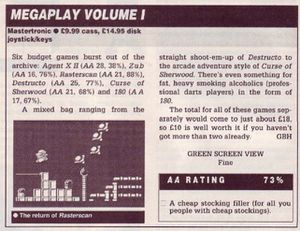 Magazine References
| | | | | |
| --- | --- | --- | --- | --- |
| Magazine | Issue | Date | Page | Reference Type |
| Amstrad Action | 040 | Jan 1989 | 56 | Review (reproduced above) |
Links