The Island Of Dr. Destructo
From CPCWiki - THE Amstrad CPC encyclopedia!

The Island of Dr. Destructo is a single screen shooter for 1-2 players
Inlay Text
You have just seven days to prevent Dr. Destructo from carrying out his evil plans and launching a massive global attack.

Your mission is to destroy the Dr. Destructo and his island stronghold in just seven days. The buildings and fleet of the Destructo Empire are destroyed from the impact of shot down air and space craft, or by the bomb which is allocated to each player per screen. Each impact will remove a small section of the ship, island or building. When the missing sections amount to a gap through to the base, a leak is created and a water spout is formed. Most objects needthree leaks in order to be successfully destroyed.
CONTROLS
Joystick or Keyboard.

Single play - joystick in port one or keyboard.
For two Players:* Player one - joystick in port one.
* Player two - joystick in port two or keyboard.

| | | |
| --- | --- | --- |
| | JOYSTICK | KEYBOARD |
| Anti-Clockwise | LEFT | Z |
| Clockwise | RIGHT | X |
| Accelerate | UP | SHIFT |
| Launch Bomb | DOWN | SPACE BAR |
| Shoot | FIRE | RETURN/ENTER |
| PAUSE | | P |
| QUIT | | Q (while Paused) |
| SOUND SWAP | | S (while Paused) |
Screenshots
Cheat Mode
Keypress
Multiface
POKE 5166,00 - Infinite Time POKE 3DAA,00 - Indestructability
Pokes
100 Lives & Extra Time (L. Townsend: AA 025 - Oct 87)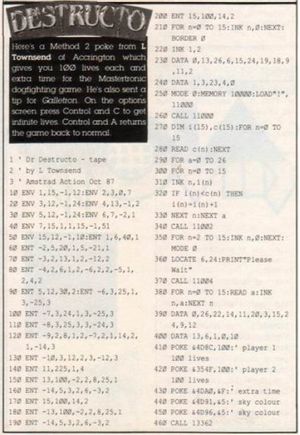 Better Control & Stronger Bombs (Adam Todd: ACU 047 - Nov 88)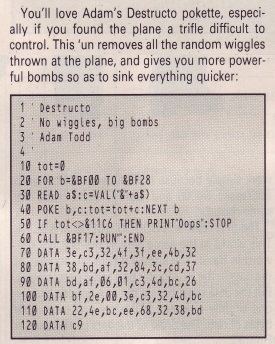 Trivia
Resources
Cover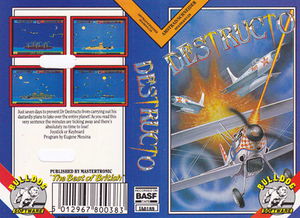 Media Scan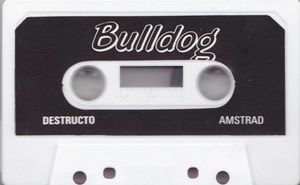 Reviews
By Gary Barrett (AA 025 - October 87)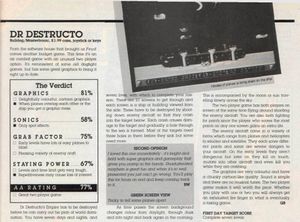 Magazine References
| | | | | |
| --- | --- | --- | --- | --- |
| Magazine | Issue | Date | Page | Reference Type |
| Amstrad Action | 025 | Oct 1987 | 47 | Review (reproduced above) |
| Amstrad Action | 025 | Oct 1987 | 54 | Cheats (reproduced above) |
| Computing With The Amstrad | 035 | Nov 1987 | 52 | Cheats (reproduced above) |
| Amstrad Action | 028 | Jan 1988 | 74 | Cheats (reproduced above) |
| The Amstrad User | 43 | Aug 1988 | 24 | Cheats (reproduced above) |
| Amstrad Computer User | 047 | Nov 1988 | 25 | Cheats (reproduced above) |
| Amstrad Computer User | 053 | May 1989 | 47 | Cheats (reproduced above) |
| Amstrad Computer User | 054 | Jun 1989 | 24 | Cheats (reproduced above) |
| Amstrad Action | 077 | Feb 1992 | 39 | Cheats (reproduced above) |
Links
For more info: