Agent X II: The Mad Prof's Back
From CPCWiki - THE Amstrad CPC encyclopedia!

Agent XII is a three part game by Mastertronic. Each of the parts is a different type of game:
the first is a horizontally scrolling shoot-em-up;
the second is a vertically scrolling platform game;
the final part is an Arkanoid clone
Inlay Text
The mad professor has returned, seeking revenge after you foiled his plan to capture the President.
This time he is out to ruin the world economy. He has set up an underground base on the moon. From this hide out, he is planning to unleash his terrible Zit-Ray.
This hideous device causes everybody to break out in terrible terminal acne. The mad prof's plans that, with spending so much money on spot remover cream - which due to the terrible effects of the Zit-Ray will not work anyway - the economy will be in ruins, as no-one will have any money left for essentials.
Only you, the super sleuth, Agent X can foil the potty professor's perfect plan.
You must away to the Moon, fight your way past wacky Waglots, enter the sinister secret sub-surface stronghold and surprise the scientist in a single stupendous showdown for supremacy.
Destroy the dastardly device and free the faces from festering follicies.
The world relies on you!
Screenshots
Cheat Mode
Hints
By Jason Brooks (CWTA 039 - March 1988)
Part One: Just keep blasting away. You must destroy the brain three times.
Part Two: To get the access codes for the computers move into the spiked ball that will move across the screen. To access the computers move on to one and press the spacebar. It will either stay off-line or ask for a code. You must access three computers. After the third, take the fourth access code to the bottom computer.
Passwords
Level 2 = LOUDHAILER GOOSE
Level 3 = PITIFUL LOBSTERS
Multiface
POKE 5CDA,A7 for Infinite Energy
Pokes
By The Hairy Hacker (ACU Issue 039 - March 1988): Infinite Energy in Levels 1 & 3; and Infinite Lives in Level 2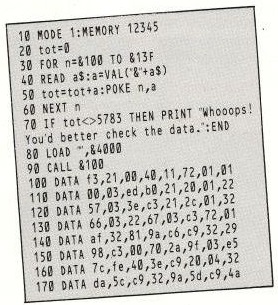 By Jason Brookes (CWTA Issue 039 - March 1988): Infinite Energy in Levels 1 & 3; and Infinite Lives in Level 2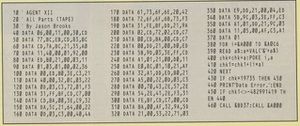 Trivia
Although billed as a sequel to 'Agent X in the Brain Drain Caper', this game was not released for the CPC range and is available only on the ZX Spectrum (click here to view the game at World of Spectrum).
On completion of the third level you're presented with a further password: SMALL CHANGE GOT RAINED ON. This doesn't seem to do anything, however, and it's possible that a fourth level may have been originally planned but not coded.
Agent XII is also available on
Remakes
None
Resources
Cover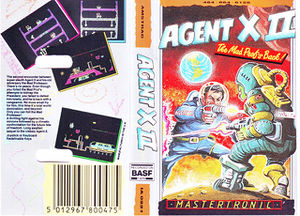 Manual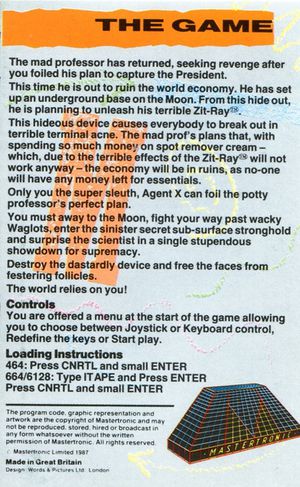 Media Scan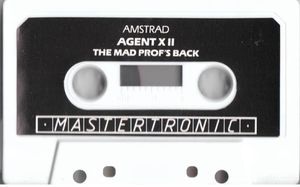 Reviews
By Gary Barrett (AA 028 - January 1988)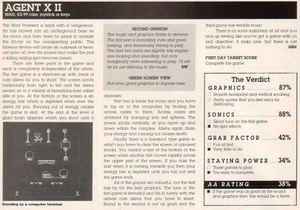 By Steve Lucas (CWTA 039 - March 1988)

Music
File:Agent X II.mp3
File:Agent X II (Level 2).mp3
Magazine References
| | | | | |
| --- | --- | --- | --- | --- |
| Magazine | Issue | Date | Page | Reference Type |
| Amstrad Action | 028 | Jan 1988 | 54 | Review (reproduced above) |
| Amstrad Action | 029 | Feb 1988 | 66 | Cheats (reproduced above) |
| Amstrad Computer User | 039 | Mar 1988 | 31 | Cheats (reproduced above) |
| Computing With the Amstrad | 039 | Mar 1988 | 26 | Review (reproduced above) |
| Computing With the Amstrad | 039 | Mar 1988 | 44 | Cheats (reproduced above) |
| Amstrad Computer User | 047 | Nov 1988 | 24 | Cheats (reproduced above) |
| Amstrad Action | 053 | Feb 1990 | 78 | Cheats (reproduced above) |
| Amstrad Computer User | 079 | Jul 1991 | 19 | Cheats (reproduced above) |
| Amstrad Computer User | 086 | Feb 1992 | 46 | Cheats (reproduced above) |
Links