HxC Floppy Emulator
From CPCWiki - THE Amstrad CPC encyclopedia!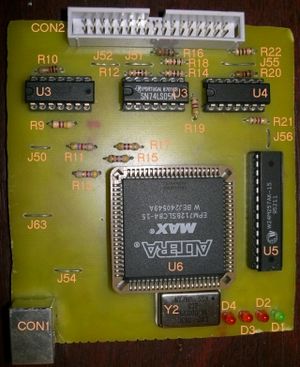 The HxC floppy emulator designed by Jeff (Jean-Francois Del Nero) as an alternative way to load programs on the CPC.
The floppy emulator is an interface card that connects a PC directly to the floppy controller of the CPC.
The PC is connected to the HxC via a standard USB cable. A program is loaded on the PC that feeds the controller with disc information.
Photos
Video
Video that demonstrates the use of the HxC floppy emulator on the Atari ST.
{{#ev:youtube|dt8Sz7-5ssY|250}}
Demonstration of the HxC on a CPC6128 by User:Khisanth
{{#ev:youtube|Ar5ygebI8og|250}}
Demonstration of the HxC (SD card version) on a CPC6128
{{#ev:youtube|0arlGguYEts|250}}
Related projects
Links
Guides