Spindizzy
From CPCWiki - THE Amstrad CPC encyclopedia!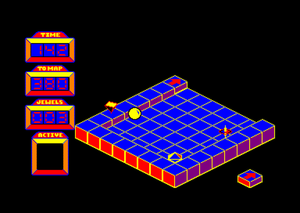 Spindizzy is a 1986 isometeric action/puzzle game by Activision in the vein of the earlier Marble Madness. The game is about navigating the 3-D terrain with a gyro-shaped probe called GERALD, collecting jewels and trying not to drop into the bottomless pit that surrounds the visible terrain. There are ramps, trampolines, and other features that require a skillful buildup of momentum, while switches on the floor control machinery such as elevators.
This game was followed up by Spindizzy Worlds on 16-bit machines such as the Amiga, Atari ST and SNES.
Video
{{#ev:youtube|eCgKfMLjsFc|450}} {{#ev:youtube|4lwcbccgpCQ|450}} {{#ev:youtube|XHNokiLOF0w|450}} {{#ev:youtube|1bqHFeyWje8|450}}
Download
Links