Codename MAT
From CPCWiki - THE Amstrad CPC encyclopedia!
Codename MAT is a 3D Space Shoot-Em-Up and Exploration game published by Amsoft.
Inlay Text
Codename MAT - MISSION: ALIEN TERMINATION - the desperate plan to place in the mind of a teenager the combined tactical skills of all the planetary leaders in the solar system. MAT is mankind's last hope. For decades the Myons have sought to dominate the Solar System, whose fleets are now ragged and depleted. They have launched an all-or-nothing attack,knowing that Earth is developing revolutionary space-craft. Only the prototype - USS Centurion - has been built, and it must be pressed into immediate service as both battle-cruiser and tactical command centre. Piloting the craft in battle and controlling the Planetary Defence Fleets is beyond any normal human... MAT is created. Now your mind is MAT's mind. Take control of the Centurion and blast off on the greatest adventure of all...
Screenshots
Cheat Mode
None - Please feel free to add!
Trivia
When originally released for the ZX Spectrum, author Derek Brewster had decided to name his game Invasion 2000, however, publishers Micromega were unhappy with the name as it didn't reflect the content and made it sound like another space invaders knock-off, which the market was being flooded with at that time. Prior to settling on Codename MAT, the game was also known as Hank during the development stage.
The game was the first release for Brewster's own company Zeppelin Games when the title was re-released at the beginning of 1988 - although mentioned in the gaming press as being released on the CPC, this would appear to have not happened.
The game did spawn a sequel in the form of Codename MAT II published by Domark
Codename MAT is also available on:
Resources
Cover
Manual
Adverts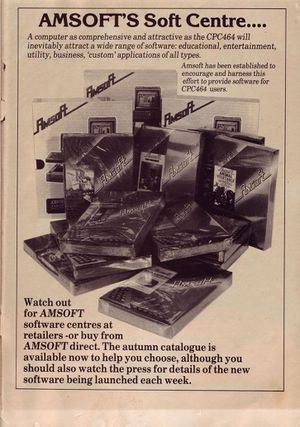 Media Scan
Reviews
ACU 01 (Aug/Sep 1984)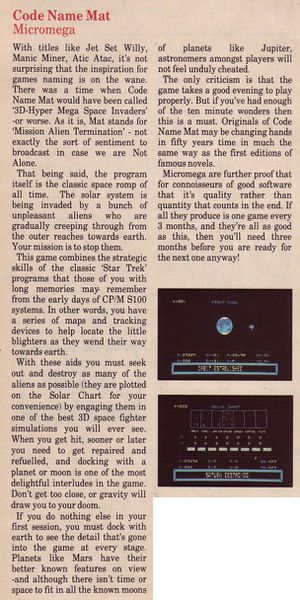 ACU 05 (Apr 1985)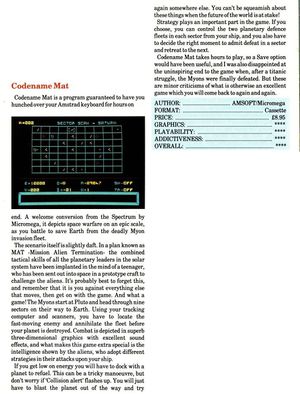 AA 001 (Oct 1985)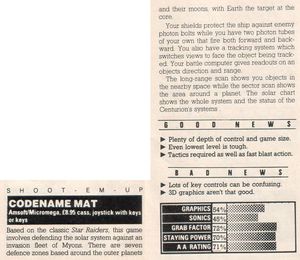 (Amtix 01 (Nov 1985)

Magazine References
| | | | | |
| --- | --- | --- | --- | --- |
| Magazine | Issue | Date | Page | Reference Type |
| Amstrad Computer User | 001 | Aug/Sep 1984 | 16 | Review (reproduced above) |
| Amstrad Copmuter User | 001 | Aug/Sep 1984 | 31 | Advert (reproduced above) |
| Amstrad Computer User | 004 | Mar 1985 | 15 | Letter |
| Amstrad Computer User | 005 | Apr 1985 | 41 | Review (reproduced above) |
| Amstrad Computer User | 006 | May 1985 | 31 | Letter |
| Amstrad Action | 001 | Oct 1985 | 79-80 | Review (reproduced above) |
| Amtix | 001 | Nov 1985 | 26 | Review (reproduced above) |
Links