Derek Brewster
From CPCWiki - THE Amstrad CPC encyclopedia!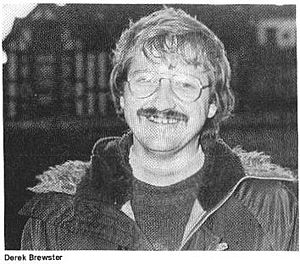 A jack of all trades, Derek Brewster has held a number of different jobs in his time within the computer game industry. One of the lead programmers for the software label Micromega (who had initial success on the ZX Spectrum and were earmarked by Amsoft to be among the first software houses to be given access to the top secret CPC), Brewster moved on from the group in 1985, around the same point as the company began to implode.
Brewster took up a post at the groundbreaking Spectrum magazine Crash as an adventure game reviewer. Brewster divided his time between penning games and freelance programming work for Mastertronic, Codemasters & Tynesoft.
In 1987, Brewster moved on from his post at Crash to help set-up the budget label Zeppelin Games with fellow ex-Micromega programmer, the 17-year-old Brian Jobling.
Softography
The following games were all originally written by Derek Brewster. Please note that the CPC version may have been converted by a third party. For more information on each game, please click on the links.