EMR MIDI Interface
From CPCWiki - THE Amstrad CPC encyclopedia!
A MIDI Interface for the Amstrad CPC.
Manufactured by the British company EMR (Electro Music Research).
Technical specs
Now, thanks to Jose Leandro, the hardware specialist of the spectrum, with his famous page :
http://trastero.speccy.org/cosas/JL/JL.htm
We can know more about this hardware.
Software using the EMR Interface
Other MIDI solutions for the CPC
Reviews
Pictures
The EMR MIDI Interface Layout, thanks to Jose Leandro
Advertisements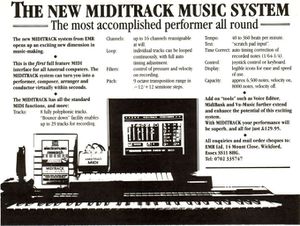 I/O Ports
 F8F2h EMR MIDI

Datasheets
Download
Weblinks